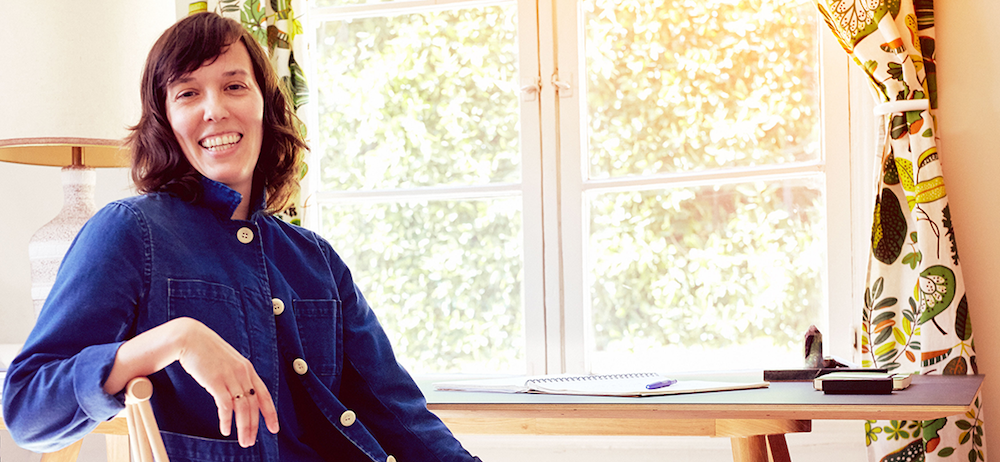 The key to getting things done? Being accountable for the work and having a deadline. – Jocelyn K. Glei

About Jocelyn K. Glei
Jocelyn K. Glei is a writer who writes about work and creativity in the Age of Distraction. Prior to becoming a full-time writer, Jocelyn was the Founding Editor and Director of the 99U where she lead editorial as well as the creation of The 99U Book Series and the curation of the popular 99U Conference. Her first book, Unsubscribe, is a modern guide to getting rid of email anxiety, avoiding distraction, and spending more time on the work that matters.
In this interview Jocelyn talks about how can we make our creative work as addictive as social media, why the old adage and expression "plan the work and then work the plan" is great advice for writers and how mastery and success is a result of lots and lots of practice, not one's gift or talent.
We also discuss completion bias, visualizing your writing progress by piling all the printed drafts of your writing project on your desk (stacked one on top of the other), and why it's oh-so-important to remember that the best productivity system is personal, not prescribed.

Listen to this episode on iTunes.
Listen to this episode on Soundcloud.

This podcast is brought to you by Ulysses, a fully-fledged, beautiful and distraction-free writing app your Mac, iPad and iPhone. When I discovered Ulysses a year ago, I downloaded the free trial, used it for a few hours and then immediately bought it. Its been my main writing app ever since and I know, if you're someone that's serious about writing, you'll fall in love with it too. That's why I've partnered with the awesome people at Ulysses so you can GET THE APP FOR FREE. All you have to do is go to ulyssesapp.com/howweworknow and there you'll find a special link to download your free extended trial of Ulysses for Mac. No obligation. No hidden fees. No strings attached. In one click you'll have yourself an awesome writing app that makes you want to write. Sound good? Of course it does! What are you waiting for? Go get it.
Topics We Explored
How our technology is designed to take advantage of the way our brain works in order to get and keep our attention.
Completion bias. How we seek easy tasks to complete quickly vs longer creative projects that takes time to finish.
How can we make our creative work as addictive as social media.
Plan the work and then work the plan.
Why, if you've never written a book before, you should keep the first topic of your book simple and within your wheelhouse.
Organizing your workday to align with your circadian rhythms.
Morning people vs. night owls. And why, perhaps, no matter if you're a morning person or not, you should do the most important work first.
Idealizing success that's based on talent rather than practice.
Key Takeaways
Print out the drafts of your book and keep them on your desk, one on top of the other, so that you could visualize your progress.
Tape a "big picture, where are you going" piece of paper on the wall over or nearby your desk. This piece of paper includes a list of the core projects that you're focused on and 3-4 key things that you'd like to accomplish over the next few months, as well as your goals and the key steps you need to take to get there.
To track your progress, pin a calendar on the wall and at the end of every day write down how many words you wrote as well as any other key, meaningful tasks that you were able to complete that are helping you move toward those larger goals.
The #1 motivator for people at work is seeing progress. To aid in this, keep a sort of "work gratitude journal" where, at the end of the day, you write down all of the "small wins" you were able to achieve that day.
The #2 motivator for people at work is appreciation. Productivity increases when the people you work with show you gratitude and appreciation.
The key to getting things done? Being accountable for the work and having a deadline.
Create an outline for your writing project and once you get started on the actual writing, never change that outline. No matter what.
The first draft is always perfect. Its only job is to exist.
The best productivity system is personal, not prescribed. If you want to be more productive, invest in your own approach. Customize it and make it uniquely your own. There is no such thing as the perfect system for everyone. Cobble together the productivity best practices that work for you and forget about the rest.
If you pursue different interests, your calling will emerge. Meaning emerges from mastery, rather than knowing exactly what you want to do from the start.
Resources and Books Mentioned
Connect with Jocelyn