I want to be as helpful as possible to as many people as possible. – Jenny Blake
About Jenny Blake
Jenny Blake is an author, career and business strategist and speaker. She helps systematize complex problems like change, and helps people feel more resourceful and resilient in the process. Although she's written two books, Jenny doesn't consider herself a writer. She writes because she values big ideas and original thinking and presenting an original approach, process or lens on a known idea. If you feel like writing isn't your strength, this interview is for you. We talk about the three stages of the writing process, co-creating with a force bigger than yourself and why Jenny thinks of a book launch like buying a serendipity lottery ticket.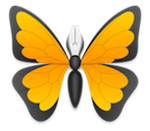 This podcast is brought to you by Ulysses. Ulysses is a fully-fledged, beautiful and distraction-free writing app your Mac, iPhone and iPad. It's been my primary writing app for over a year now and I know I will never stray. Because… it make me want to write. That's why I'm stoked to tell you that Ulysses is offering the listeners of this podcast a very special extended free trial. If you're looking for a writing app to love go to ulyssesapp.com/howweworknow to get your extended free trial of Ulysses for Mac.
Topics We Explored
Whenever you're writing there's three different stages – harvesting, thinking and writing.
How to use Evernote to help you organize all of your research, ideas and anecdotes, as well as outline the chapters of your book.
When the digital tools you're using to capture and organize all your notes and ideas becomes unwieldily, using post-its and a blank wall can help make it feel more manageable.
Co-creating with a force bigger than yourself.
Leveraging the new world of podcasts as an intimate and fun book promotion tool.
Thinking of a book launch as buying a serendipity lottery ticket.
The strange shift that's required when you transition from writing and editing a book to preparing and promoting its launch. Going from hardcore hermit and thinker to calls, meeting and networking all the time.
How to take care of yourself during every phase of the writing process.
Writing the type of book that someone would read and then give to a friend like a doctor would give a prescription.
Listening to your body for answers when you feel stuck.
Key Takeaways
In the preliminary stages of the book writing process, where you're researching and harvesting ideas, anecdotes and articles, set up a system for capturing your ideas when they happen. When you have an experience or an idea or anecdote is presented to you, write it down. Those little daily nuggets will be helpful to you later when you have to sit down and write because you'll have that organized bank to draw from.
If you have a hard time with long form writing, a way to get around that is to queue up a topic that interest you and just write a blog post length riff on on it. Little by little they will add up to your book.
If you're bored as the writer, so will your reader be. Ask yourself, how can I make this joyful today.
Most people think you should write a book linearly, but you don't have to. You can get your book done by working on different sections as you become interested and feel like writing them. Give yourself permission to jump around.
If you want to sustain yourself during every phase of the writing process, you have to take care of yourself. Sleep, exercise and meditation are the fundamentals to staying healthy and sane.
Although there's a lot of hustle involved in book marketing, there can also be a lot of serendipity and magic. Leave open the possibility that things will happen that you don't even plan for and that you don't have to carry the whole burden yourself.
Authors don't make books a success, readers do.
What ultimately makes a book successful is if it really helps someone and they want to tell their friend. When this happens, with every book that sells, another one will follow.
Resources and Books Mentioned
Evernote for capturing and organizing your ideas
Captio iPhone app for emailing yourself in just a few clicks
Nassim Taleb, Antifragile (book)
Connect with Jenny
Jenny's website
Jenny's latest book Pivot
Jenny's Pivot Podcast
Jenny's online community Momentum