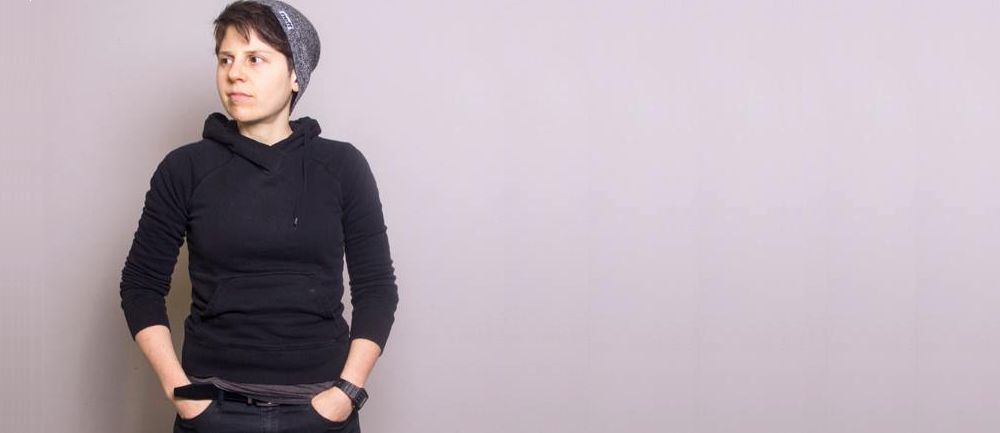 What makes a really great headline? When it sounds like something you would actually say in a conversation and it would intrigue the person listening. – Sally Tamarkin
About Sally Tamarkin
Sally Tamarkin is Senior Fitness Editor at BuzzFeed, where she writes and edits health and fitness content for BuzzFeed Health. Sally is also really into self-care and has a podcast of her own with her best friend Katharine Heller, The Struggle Bus, where she answers questions from her listeners and offers helpful advice.
In this interview Sally talks about the challenge of knowing too much about your topic, the freedom that comes with allowing yourself to write in a fun, casual and accessible way, and her on-again, off-again relationship with case studies and scientific research.
We also discuss the right ratio between researching, writing and editing, why people prefer to get their advice from real people like them rather than well-polished experts who use big words and the secret sauce to writing really great headlines.
I got to know Sally when she interviewed me for an article she was writing for Buzzfeed about how to be more productive. The article went live a few days before I released this episode and how she titled the article is a perfect example of great headline writing.
16 Simple Ways To Be More Productive And Actually Get Shit Done
Without giving up fun stuff like chatting, social media, and your will to live.
Now that's one great headline. During our chat Sally shares what she's learned about great headline writing and how you can write great headlines too.
And finally, we gabbed about Sally's podcast The Struggle Bus and how the act of creating content for a podcast every week can help inspire and strengthen the ideas you'd like to write about.

Listen to this episode on iTunes.
Listen to this episode on Soundcloud.

This podcast is brought to you by Ulysses, a fully-fledged, beautiful and distraction-free writing app your Mac, iPad and iPhone. When I discovered Ulysses a year ago, I downloaded the free trial, used it for a few hours and then immediately bought it. Its been my main writing app ever since and I know, if you're someone that's serious about writing, you'll fall in love with it too. That's why I've partnered with the awesome people at Ulysses so you can GET THE APP FOR FREE. All you have to do is go to ulyssesapp.com/howweworknow and there you'll find a special link to download your free extended trial of Ulysses for Mac. No obligation. No hidden fees. No strings attached. In one click you'll have yourself an awesome writing app that makes you want to write. Sound good? Of course it does! What are you waiting for? Go get it.
Topics We Explored
What it's like to write for a globally distributed digital media powerhouse like Buzzfeed.
The benefits of having an outside force dictating your work structure and the benefits of dictating your own work structure and the value of having both.
How an editorial team works together to create consistent, awesome content for readers.
The creation of social news articles and the balancing act of keeping your pulse on what people are saying on social media that it requires.
Are younger generations really better at multitasking or are they just young and more nimble in their thinking than those around them that are older.
Why following the topics mainstream media is covering isn't always the best way to get great ideas for your own content.
The challenge of knowing too much about the topic you write about.
The freedom you have when you have permission to writer in a fun, casual and accessible way.
Having an on-again, off-again relationship with case studies and scientific research.
Key Takeaways
When writing becomes a struggle, change your environment. Shakes things up.
Block off specific times in your calendar to scan social media for stories and ideas so that you can keep your finger on the pulse of what people are talking about without allowing it to distract you throughout the day.
If you have a Mac and an iPhone you can keep your brainstorming tools simple and auto synced across both devices by simply using the Notes app to capture your ideas.
Use the Notes app to quickly jot down ideas whenever and wherever they come to you and then use a separate app like Evernote to flesh out those ideas and organize them by topic and/or project into folders that holds all of your research, interviews and more granular notes and ideas.
If you can't think of a good headline for your article, it means that you can't think of a way to frame your story and that might mean that the story isn't going to work.
Headline writing tips:

When they sound like something you would actually say in conversation and it would sound intriguing, that is what makes a really good headline.
Don't over promise or under promise in your headline. Be honest about what's inside.
Use the tone of your headline to hint to what the tone of your article is.
The more relatable, the more the way people talk in conversation, the better.

If you're struggling to write about a specific topic, reintroduce yourself to why you think it's important and why you're doing it in the first place.
Or, if you're struggling to write about a specific topic perhaps, instead of trying to power through it, you should write about something else.
Journalists and editors trust their sources better when they feel like they have an authentic and organic connection to their work.
When you feel like you know someone or know their personality through their writing, that's what makes (especially service journalism) you feel like it's something useful and advice you want to follow. People want to get advice from real people more than they do well-polished experts.
Resources and Books Mentioned
Connect with Sally